"I write a letter when I have a crush so intense that I don't know what else to do," says Lara Jean Covey in Susan Johnson's delightful teen rom-com To All the Boys I've Loved Before, another win in the genre for Netflix. Lara Jean is a romantic, a hopeless one at that; she dreams of having the kind of romance you see in movies and read about in cheesy novels. Naturally, she's going to get all of the boy trouble she can handle soon enough, but what makes this movie special is that it isn't so much about which boy she chooses, but what Lara Jean learns about herself in making that choice.
Lara Jean is played by Lana Condor, best known for playing Jubilee in the most recent X-Men movie. When Lara Jean starts talking about her letters, written to the five boys she's had the biggest crushes on, we know they're destined to get out. And sure enough they are, which causes Lara Jean all sorts of problems. One goes to her best friend and literal boy next door, Josh (Israel Broussard), who just so happens to be the ex-boyfriend of her older sister Margot (Janel Parrish), who has just left for college.  While three of the letters are pretty harmless, one goes to Peter (Noah Centineo), the handsome and athletic former boyfriend to her school nemesis, Gen (Emilija Baranac).
After literally fainting from the humiliaton, Lara Jean and Peter hatch a classic teeny-bopper plot to fool everyone into thinking they're a couple. That way Peter can make Gen jealous enough to take him back, and Lara Jean can finally get Josh to see her as more than a friend. Are we sure John Hughes didn't write this? Should we expect Patrick Dempsey to come riding over the hill in his lawnmower?
I appreciate that screenwriter Sofia Alvarez, adapting the popular novel by Jenny Han, doesn't dwell on the mystery of who sent Lara Jean's letters. It doesn't really matter, and would take the focus off where it needs to be, which is on her feelings now, not what they were before. Of course, her feelings now lead to some confusing mishaps and questions of the heart, but the film doesn't treat these things as a joke. It takes Lara Jean's feelings seriously into account, whether she's angsting over boys or dealing with issues at home. As the mixed-race middle daughter of a widowed father (the always-welcome John Corbett), Lara Jean has concerns that go beyond her latest case of puppy love.
Unabashedly beholden to the works of John Hughes, To All the Boys I've Loved Before also isn't afraid to recognize how much times have changed since then. When Lara Jean forces Peter to watch Sixteen Candles they both react to the offensive Asian stereotype that is Long Duk Dong.  Interestingly, Lara Jean's Korean heritage is never really a factor; not that it absolutely needs to be, but it does get some mention in Han's novels, of which this film is based on the first two of the trilogy.
From top to bottom there's a great young cast of rising stars. Broussard, who some may recognize from Bling Ring, is down to earth and likable. Centineo is incredibly magnetic as Peter, and together he and Condor have an easy chemistry that should stifle any Team Josh supporters out there. But the breakout star is Condor, who as Lara Jean is charming and funny, with an awkward wit that is undeniable. Lara Jean is shy, but Peter helps break her out of that shell. Their connection feels genuine, whether they are gleefully enjoying their fake relationship or arguing because it's starting to get too real.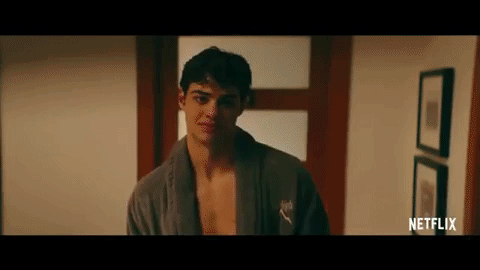 To All the Boys I've Loved Before doesn't set out to break the mold, but by staying true to its characters and the mixed-up feelings of youth, it improves on what so many films before it have gotten wrong.
Rating: 3.5 out of 5