Taraji P. Henson? Badass. We love her as the tough-as-nails Cookie Lyon on Empire, and when she finally received the acclaim she deserved for Hidden Figures, we all saw it as a victory. We've been rooting for Henson ever since her character's transformative arc in Hustle 'n Flow. So when the trailers for Proud Mary promised Taraji as a John Wick-style killer set to a '70s Blaxploitation vibe, there was legit reason to get hyped. Taraji's about to kick some ass, y'all!!!
Well, nah. Proud Mary is a disaster from start to finish, and we see why Sony has quietly dumped the movie in the middle of January with zero buzz. How could that possibly happen? Who could possibly screw up Taraji P. Henson packin' heat with attitude to match and a soundtrack of Motown's finest? Blame London has Fallen director Babaj Najafi and a couple of so-called writers who have foisted upon Taraji a bland, boring, and dreary assassin flick the quality of the Bruce Willis/50 Cent stinkers piling up DVD bins at Walmart. Right from the beginning there is something cheap and inartful about it, as trained contract killer Mary Goodwin does her morning workout to the tune of "Poppa was a Rolling Stone" over title credits that may have been lifted from Cleopatra Jones. It looks and feels like window dressing, but at that point we're still hopeful of a contemporary revival of the ethnic subgenre that spawned so many cool, iconic heroes.
But it isn't. Mary is the barest sketch of a character. In the span of 30 seconds we see her stealthily slink into a man's home, gun him down quietly and efficiently, only to realize the man's son is in the next room unaware of what has happened. Jump forward in time a full year, and Mary is basically non-existent as we follow that boy, Danny (Jahi Di'Allo Winston), who becomes a drug mule abused by the head of a crime family. Mary, who works for a rival family led by Benny (Danny Glover) and his son Tom (Billy Brown), begins to watch him from afar, compelled out of guilt and what we're supposed to believe is maternal instinct but she's too thinly drawn for us to really know.
Copying pretty much every assassin movie ever made, with a special nod to Luc Besson's The Professional (a personal favorite), Mary steps in and becomes Danny's guardian. She dispatches those who've hurt him, and hides the boy from her mob family. Of course they mix like oil and water; she lives in a posh tech'ed out home (there's an IPAD on her fridge!!), and she's got rules which Danny ain't gonna follow. When she warns him to stay out of her room, the first thing he does is go right up in there, discovering a cache of weapons and closet full of colorful wigs that Sydney Bristow would be jealous for. Mary lays down the law, but staying mad at Danny isn't really an option. She's risked everything to save him, and her actions have started a turf war that could destroy the only family she's ever known.
That doesn't sound so bad on paper, but that's because plot isn't really the issue. Execution is the problem. The soulful posture of the opening sequences is nowhere to be found after the opening credits, replaced by dull, rote, and lazy hitman movie tropes. Where is the brassy, take-no-prisoners Taraji P. Henson we were promised? Where has the potential in a slick action vehicle led by a top African-American actress disappeared to? It's certainly not in Proud Mary, which mostly has Taraji delivering long yet pointless exposition through teary eyes, but her opportunities to be the action star we hoped for are few.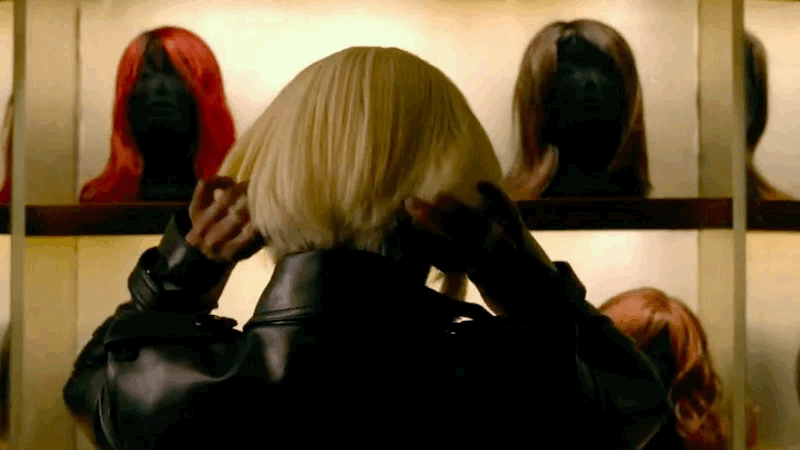 Even the editing is a glaring weakness. Each scene haphazardly cut to maximum incoherence, it's hard to tell what the Hell is going on even when it's just two people talking…which is most of the damn time. It only gets worse during the action, most notably in a bizarre gear shift at the end of the movie as Tina Turner's "Rollin' On the River" is ham-handedly jammed into the soundtrack, when Mary finally turns into the unstoppable angel of violence with the over-the-top choreography we had been hoping for. So what was all that boring crap before this?? By the time we get what we had been hoping for it's far too late for Proud Mary to be saved.
I don't blame Taraji, nor do I put fault on Jahi Di'Allo Winston who has the makings of a rising star. She's fearless when given opportunity to show it, but it seems like Najalfi wants to edit away the scenes where Mary shows vulnerability. Actually, it seems like he wants to edit away anything that would give Proud Mary any sense of style. And if there's one thing we can say about Taraji P. Henson is that she has style. She deserves a better chance to show it than Proud Mary affords her.