The Maze Runner occupies an interesting place in YA history. Arriving just as the already-tired genre was fading out, it managed to steal the mantle left behind by The Hunger Games that we all presumed was meant for Divergent. But after an on-set injury sidelined star Dylan O'Brien, the third film, titled The Death Cure, was delayed so long it arrives already feeling past its prime. Fortunately, promising director Wes Ball has used the hiatus to reclaim the pulse-pounding energy of the first movie, after its sequel The Scorch Trials, was something of a meandering mess.
All of these dystopian YA flicks kick off with a unique premise, in this case a bunch of boys and one girl trapped in a mysterious forest labyrinth. Then they all sort of devolve into "teens vs. tyrranical government" riffs, as war breaks out against the adults who are planning some nefarious scheme or another. These are, naturally, the least interesting parts of the story, but at least The Death Cure continually moves at a brisk space and has an impressive sense of scale, two things the first movie excelled at.
After a breakneck train sequence that owes a lot to Mad Max: Fury Road or The Fast & the Furious, Thomas (O'Brien), Newt (Thomas Brodie Sangster), Brenda (the awesome Rosa Salazar), Frypan (Dexter Darden), veteran rabble-rouser Jorge (Giancarlo Esposito) and more rescue a bunch of imprisoned kids from the clutches of WCKD. It was revealed that WCKD, led by dour head honchos played by Patricia Clarkson and Aidan Gillen, has been harvesting special youths to find a cure for the Flare virus that has turned most of the population into zombie "Cranks". The rescue worked, but they didn't find their friend Minho (Ki Hong Lee), which means they'll have to bust in to WCKD's fortress city and find him.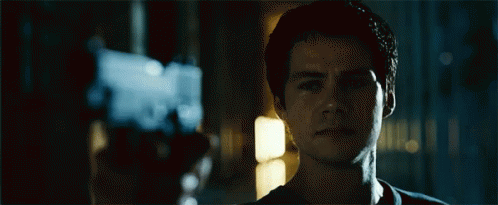 The action is bigger than ever and more relentless, although at times it's also pretty damn silly. A chaotic, utterly unfathomable sequence involving a giant crane and a bus full of Gladers being about where things jump the shark. But I like Ball's visual eye, choreographing some truly stunning set pieces. He gets a lot of help from his cast, with O'Brien leading the way as the film's charismatic focal point. The only one who commands the screen better is Salazar, who as Brenda is the franchise's resident firecracker. Brenda's closeness to Jorge, and unrequited romantic interest in Thomas who still longs for the traitorous Teresa (Kaya Scodelario), make her the most fully-realized character of the bunch. Others don't fare so well, like Walton Goggins as a disfigured walking McGuffin who plays a crucial, if extraordinarily convenient, role in the final battle.
There are plenty of surprises, including the return of a major character thought long dead, and an ending that is satisfying but leaves you wondering if there are more stories left to tell. If only Ball could have found a way to trim down that unforgiveable 142-minute runtime, I think more would be willing to run the Maze once again, perhaps adapting the other two novels in James Dashner's series.
Rating: 3.5 out of 5