With Adam Sandler taking his "talents" to Netflix, the other reliable place to find his juvenile brand of humor is Hotel Transylvania, but at least it knows its audience. Hotel Transylvania 3: Summer Vacation finds a lonely Drac taken on a vacation cruise to the Bermuda Triangle by his daughter Mavis (Selena Gomez) and a Monster Squad of his freakish buddies. While there were a few chuckles in Drac's failed attempts to scare off his daughter's eventual husband Johnny (Andy Samberg), there's simply no "zing" when the attention turns to his love life.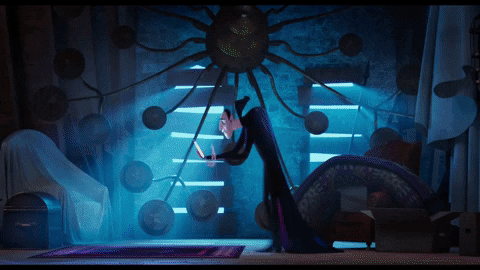 What this vampire needs is an Anne Rice-style makeover. Even the Twilight vamps are getting more action than the king bloodsucker himself, who continues to run his fancy hotel for monsters. He's worried about growing old without someone to love, an odd concern for someone who shouldn't age. But monsters only get that "zing" once in a lifetime, and he had it with his deceased wife. I guess her death is the only death that sticks because all sorts of dead and undead creatures are running around. Sensing her father's loneliness, Mavis takes it upon herself to book them all on a Monster Cruise, which is when Drac instantly "zings" with the creepily enthusiastic Captain Ericka (Kathryn Hahn). Unfortunately, she happens to be the latest in the long line of monster-hunting Van Helsings, and her true goal is to kill him and all of his pals.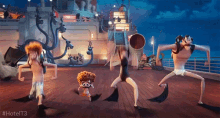 What's up with the Dracula fam all falling in love with humans? Seems illogical and counter-productive; nobody wants to be in a relationship that sucks the life out of you.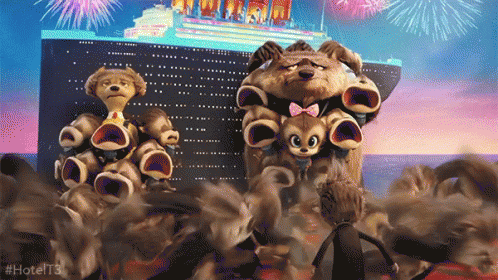 The laughs are feeble, but the animation by Genndy Tartakovsky is beautiful, angular magic. His monsters bounce, the fur whips in the wind, and fangs glisten in the moonlight. Character designs spring with personality, from the lounge-singing Kraken to the giant salivating pup stowed away on board by Vlad's grandson. He builds humor out of the animation, but the overlong comic/musical sequences feel strangely out of place in a movie aimed at a child's short attention span.
The stunning visuals are a decent distraction from the utter lack of memorable jokes. Okay, there's a fart joke that's pretty funny but you'll be ashamed for laughing at it. Vlad's best gag is a misunderstanding with his phone's vocal assistant. He's lonely, but she offers him baloney. Blah. Kevin James, Fran Drescher, Mel Brooks, Keegan-Michael Key and more all return as Vlad's monster buddies who are looking to stoke the fires of romance. Best of all, and the closest thing to funny this movie gets, are Steve Buscemi and Molly Shannon as werewolf parents who ditch their cubs at the daycare and run free like young wolves in heat.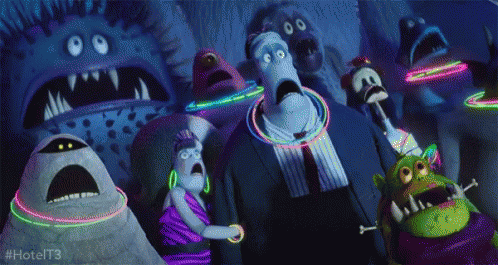 The kiddies may get a kick out of the eye-popping animation, but will they really care if Drac finds himself a new woman? Adults…well, they get to do the "Macarena" like it's 1995 all over again. Consider a staycation rather than booking passage on this Summer Vacation.