Here in DC and just about any major city in the country, you can find scores of midnight moviegoers attending screenings of Tommy Wiseau's The Room. Arguably the worst film ever made, or certainly in the pantheon of worsts, Wiseau's passion project sets the bar for ineptitude, and people love it for exactly that reason. Personally, I've never understood the attraction, but it's undeniable that fourteen years since Wiseau dropped this stinky turd people can't get enough of it. And for them, James Franco's The Disaster Artist, an obviously loving tribute to Wiseau's bizarre creation, will be love at first sight.
But how will it play for those who have yet to experience The Room? Franco, who both directs and stars as Wiseau, has set out to make a movie that is respectful of Wiseau, not as a platform to make fun of him. There are plenty of chances for him to do it, but it's clear Franco appreciates the film too much to turn this into a hit piece. Franco's passion for The Room comes through, and with it audiences can get a sense of his and Wiseau's love of movie-making and the creative process. It makes for an infectious, funny, wildly entertaining tribute that could earn The Room some new fans.
Franco begins the film with a series of big name celebrities all talking about their reasons for loving The Room. It's an iffy beginning because so much sounds insincere, like they're taking shots at Wiseau. Then when you actually see Franco in the role of Tommy Wiseau, with his long black hair, strangely-curled lip, droopy eyes, and thick European accent, you would be forgiven for thinking it a parody. But Franco recovers quickly within the opening scene, as Tommy's incredible confidence leads him through a truly awful Stanley Kowalski performance in front of an acting class. Attending that class was Greg Sestero (Dave Franco), who was blown away by Tommy's fearlessness.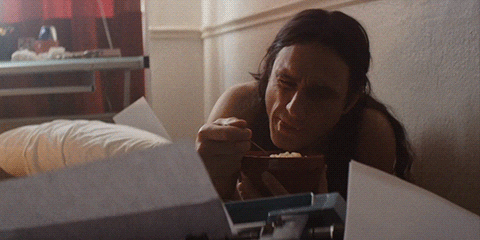 Greg and Tommy's story is classic Hollywood stuff, at least at first. They both have dreams of becoming actors, and they become friends by promising to push one another until it happens. Greg has the physical tools but no confidence, while Tommy is….weird. Of unknown origin, although he insists he's from New Orleans, Tommy seems to have all the money in the world without any kind of job to explain why. He's got apartments all throughout California but no friends to show for it, and fewer prospects around Hollywood. For all of his bravado, Tommy is incredibly insecure, and it doesn't take long before he's jealous of Greg and his new girlfriend.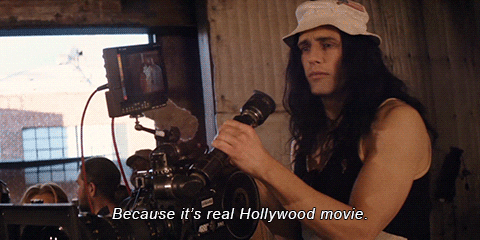 That betrayal, in part, fuels what would become Tommy's…what's the opposite of a magnus opus? Well, that's what the screenplay for The Room would be. He and Greg decide that if Hollywood won't take them, they'll take Hollywood and make their own movie. Of course Tommy would direct it. Does he know how to direct? Of course not. But he talks the talk, never knowing how ridiculous he sounds. The first scene he shoots takes place in a replica of an alley that is, quite literally, just outside the door. When asked by the script supervisor (Seth Rogen) why they don't just use the actual alley, Tommy responds "Because it's real Hollywood movie." Yeah, okay, that settles it. By the way, Rogen has some of the best reaction shots. It's a movie where everybody is standing around befuddled at the movie they're making, so reaction shots rule.
What follows is a blow by blow account of the disastrous shooting of The Room, populated by big stars in laughable roles that have become unforgettable to midnight audiences everywhere. Ari Graynor, Josh Hutcherson, Jackie Weaver, Zac Efron, and more tackle the corny dialogue ("You're tearing me apart, Lisa!", "I did naaahhhhttt! Oh, hi Dave."), absurd storylines (the forgotten cancer diagnosis), and rancid acting (that football scene! those sex scenes!) that fans will love seeing portrayed by more qualified actors.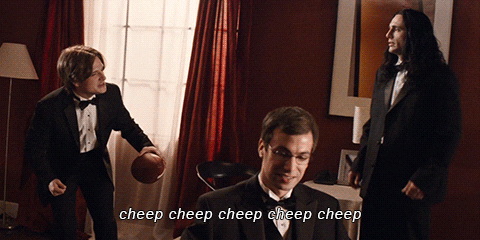 Franco creates this heightened reality, almost like you've stepped into Bizarro World, where you're cheering for Tommy's movie to be as terrible as it possibly can be. And it's terrible; Franco doesn't shy away even a little from how bad The Room is. But underneath it all you do come to appreciate Tommy's drive and commitment, such as it is, even though he resembles a villain from a Dracula movie. To his credit, Franco plays him with the kind of extravagant flourish the role demands, while letting us in just slightly on Tommy's insecurities. He still remains a curiosity by the end of the movie, but that may have more to do with the adaptation of Sestero's book, which doesn't provide much in the way of answers. Tommy is just one of those guys you have to accept exists in his own altered reality, and everybody else around him are just supporting players.
While not especially deep, The Disaster Artist is a movie for people who love movies. I'd suggest seeing it as part of a double-feature with The Room, and then after that you'll never have to watch The Room again. And we have James Franco to thank for that.