The Marvel Cinematic Universe may have a Spider-Man hanging out with the Avengers, but Sony currently has the BEST Spider-Man. Spider-Man: Into the Spider-Verse finally gives us the big screen debut of Miles Morales, the incredibly popular black/Latino Spidey who has been burning up the comics pages for years. Not only is it sweet as Hell to finally get some diversity under the mask, but Miles gets to debut in the best Spider-Man movie yet. Call it Amazing, Spectacular, Superior…all of the Spidey adjectives apply and still aren't enough.
There hasn't been a Spidey movie this fun, this wildly creative, and demanding of repeat viewings. This is a beautiful, breath-taking ride from start to finish, and it captures so much of what has made Spider-Man such an enduring character for more than fifty years. There's so much in it that catches you by surprise that to spoil anything should be a crime, but the plot dreamed up by Phil Lord and co-written with Rodney Rothman is both a love letter to Spider-Man's legacy and a promise of future greatness.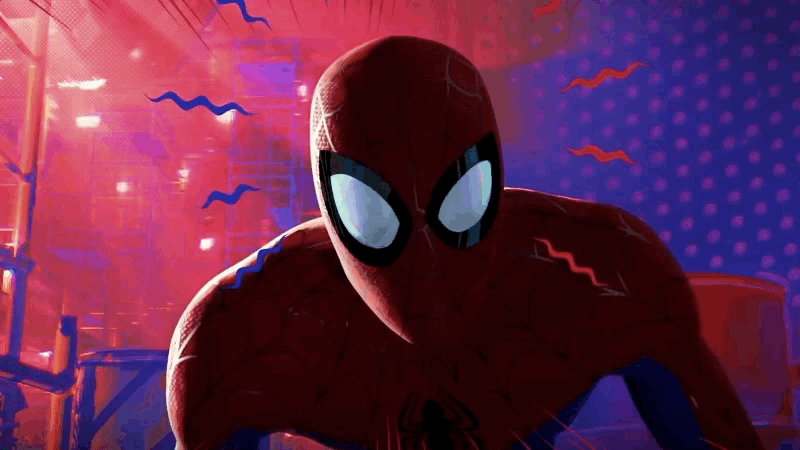 So much is happening, there's so much to take in that Into the Spider-Verse can be overwhelming. But it's also such an incredible thrill, like you're actually taking a journey into the splash pages themselves. The story moves quick, the action never stops, even as we're being introduced to Miles (voiced by Shameik Moore), a Brooklyn kid caught between the worlds of his mixed-race upbringing and the private school he commutes to every morning. With two hard-working parents, a dad (Brian Tyree Henry) who is a cop, and a mom (Lauren Velez) as a nurse, it just feels so radically different to have a Spider-Man with this kind of in-house support system. And that fundamentally changes the stories that can be told, as Miles must also deal with the pressure of being a good son, not just a superhero.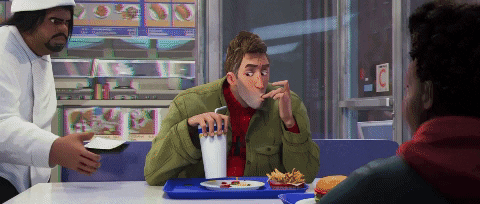 Of course, there is a radioactive spider involved, a high-tech version that bites Miles while he's tagging walls with his beloved uncle Aaron (Oscar winner Mahershala Ali). It grants him all sorts of nutty arachnid abilities, some familiar, and some not so much. However, this ain't Highlander. There doesn't have to be only one Spider-Man in Miles' world, and after a fateful encounter with the O.G. himself, Peter Parker (voiced by Jake Johnson), Miles takes up the mantle, so to speak. It also puts him in the crosshairs of Kingpin (Liev Schreiber), who hatches a desperate plan that somehow brings the arrival of multiple Spider-People into Miles' world. There's the effortlessly-cool Spider-Gwen (Hailee Steinfeld); the grim, Bogart-esque Spider-Man Noir (voiced with peak Bogart by Nicolas Cage); Peter Porker aka Spider-Ham (John Mulaney), a cartoonish piglet with spider powers, Peni Parker (Kimiko Glenn), an anime-inspired Japanese girl from the future with her android sidekick, SP//dr. And most importantly, an older, less-motivated Peter Parker arrives, one who has been worn down by the toll being Spider-Man has had on his life. Together they must foil Kingpin's plan and find a way to get back home, a task that proves difficult because Miles is such a noob.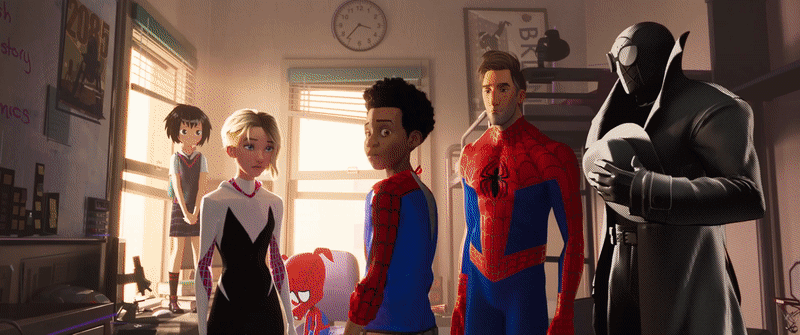 Like Spider-Man: Homecoming, there's an emphasis on teaching this new Spider-Man the ropes…or the webs, in this case. Parker becomes his slovenly Obi-Wan and their interactions are like a running commentary on the various ways Marvel has depicted Spider-Man over the years. The Miles Morales character was created basically to get back to Spider-Man's young, free-swinging roots, at a time when the Peter Parker version had been around for decades, grown up, been married, and was going through all sorts of adult things that aren't fun to read about in comics. Miles was a fresh start, and you get that feeling with Into the Spider-Verse, as well, But the story doesn't brush Peter aside; on the contrary it celebrates all that he's been through and the experiences that turned him into a hero capable of inspiring someone like Miles. It's a theme often repeated that anybody can be Spider-Man, that anybody can be a hero, and I dare you not to shed a tear when the late great Stan Lee shows up and expresses those sentiments himself.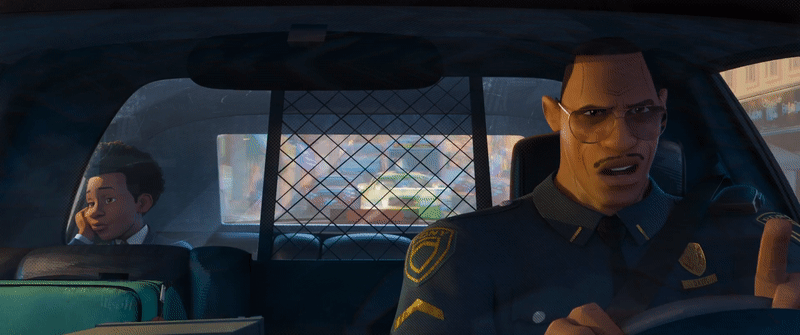 Visually,
Into the Spider-Verse
looks like no other animated film you'll see this year, possibly ever. The colors aren't just vibrant they practically leap off the screen, like CGI mixed with an ace inker's line work. It gives off a rotoscoping effect that is stunning and allows for the trio of directors to push the limits of what can be accomplished through animation. The faster the pace, the better it looks, like during a city-wide chase with Miles dragging along an unconscious Peter by the webs. There are Easter Eggs galore for longtime Spidey fans and some for newcomers, while the character designs are mostly faithful to the comics. There's a pretty cool nod to Sam Raimi's flicks, too. Each version of Spidey has some trait that Miles can learn something from, with each getting their moment to shine. But of them all the real standout is Spider-Gwen, which may be why Sony is
already prepping a spinoff for the punk rockin' hero
. I would like to also personally request more Spider-Man Noir and Spider-Ham, please. Perhaps a teamup? And also more of Lily Tomlin's badass version of Aunt May.
Sony has something special on their hands with Spider-Man: Into the Spider-Verse, a film with so much heart, action, and personality it would have made Stan Lee proud. Excelsior, indeed.