The best boxing movies, and to me boxing movies are the best of the sports genre by far, are great long before anybody ever steps into the ring. Most follow a similar structure and even a similar outcome, but it's the journey that matters, and the taking of life's punches that are more important than any blows suffered in the squared circle. If all of that resonates as it should, then the outcome of the battle means so much more, win or lose. It's something Sylvester Stallone has always mastered when it comes to his Rocky films, and continues to show with Creed II as Michael B. Jordan's Adonis Creed faces an opponent that is both predictable and yet not what we expected.
I'll admit, when it first became obvious, from a chatty Stallone himself, that the son of Ivan Drago would be the main antagonist of Creed II, it was worrying. Part of what the prior film so powerful was that it pushed the headstrong and arrogant Adonis away from the obvious path. But Stallone, along with co-writer Jule Taylor and incoming director Steven Caple Jr. have crafted a story that embraces the rich mythology of this franchise and expands it. The return of Drago (once again played by Dolph Lundgren), the man who killed Adonis' father Apollo Creed in Rocky IV, allows for an examination of family legacy from different angles: one fighter bent on revenge, the other redemption, and it's not always clear who is on what road.
The playbook is a familiar one. Adonis is on top of the world, a champion of the ring with the love of his city, his girlfriend Bianca (Tessa Thompson), and the support of his trainer, Rocky Balboa, whose clock just keeps on ticking. But Adonis' high is blown when a sleazy promoter (Russell Hornsby) tries to engineer a fight with Ivan Drago's behemoth son, Viktor (real-life boxer Florian Munteanu), who has been brutalizing opponents in Mother Russia. It's a bout the whole world wants, and Adonis, feeling the pressure of his father's looming shadow, can't resist.
What makes this interesting is that Drago's return isn't marked by mere vengeance. Ivan Drago was basically ex-communicated from everyone he knew after losing to Rocky. His wife (Brigitte Nielsen, who makes a couple of small appearances) left him, and Ivan did nothing but train Viktor to fight. The boy seems to know nothing else other than fighting, as a means of redeeming his father and restoring their family name. But Viktor isn't cruel; he looks like he should be, but his motives are pure and his skill undeniable. Also undeniable? That he's about the size of a house, and looks like he could pummel Adonis into pulp.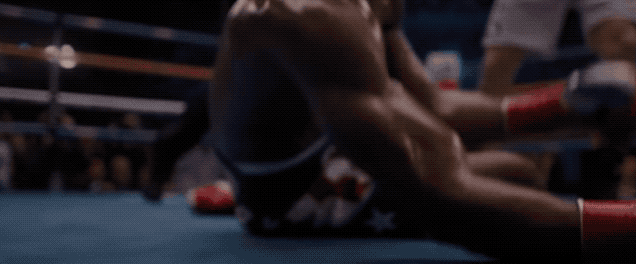 Creed II has compelling drama hitting you from all sides. Adonis must go through the familiar beats, literally in this case, of being knocked off his pedestal and needing to be built back up to reclaim the throne. This film, perhaps more than its predecessor, digs into Adonis' personal issues as a means of getting inside his head. He's still racked with doubt that he'll ever live up to his father's legacy, while at the same time there's the need to be strong as he embarks on a new chapter with Bianca. Rocky takes something of a backseat here; not to say he isn't still important. His first encounter with Ivan Drago, which takes place at a face-to-face sit down at an Italian restaurant like a scene out of The Godfather, is absolutely brilliant. But we know Rocky's stance on this pretty early on; the weight of guilt he's carried since Apollo's death is something we've seen addressed in earlier movies, so it doesn't't need to be a focus here. This is Adonis' story, his journey, and if you thought it might include a montage or two…well, you know your boxing movies.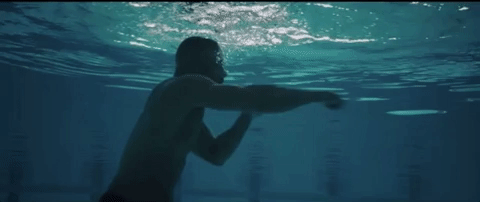 There was probably some concern when Ryan Coogler was unable to return as director; his chemistry with Michael B. Jordan is beyond reproach. But those who knew Caple from his little-seen Ohio drama, The Land, knew the film was in very good hands. Caple doesn't go too far in trying to put his own stamp on it, and yet he does anyway. When the action moves to the ring, that's when we see the differences play out. Caple may lack a little bit of Coogler's elegance but he makes up for it with whincing, visceral round-by-round physicality. By the time the final match comes around we're so invested in these characters that every blow hurts us as much as it hurts them. Jordan has improved in the ring, and I have no doubt Florian's presence helped that along. It certainly helped in the training department because Jordan looks jacked, and if you've seen Florian's workout videos you know that dude is a damned cyborg. Stallone is so comfortable in the role of Rocky that he can probably do it in his sleep, and yeah, sometimes it looks like he actually is. But man, can he still deliver a somber, inspiring, comeback monologue with the best of them.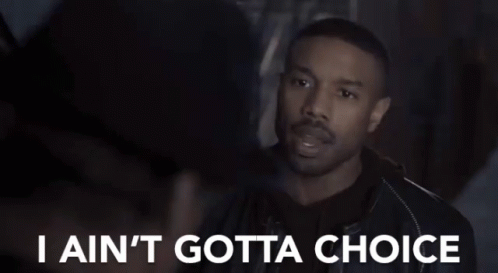 Much like Adonis himself, Creed II has a lot to live up to, and that's only going to increase with every new chapter of this epic boxing tale. They call boxing the "sweet science" because every fighter has a formula for success. If they can find it, and stay in it, they can't lose. Rocky found it long time ago and Creed II is a triumph for sticking with the winning formula.
Rating: 4 out of 5