"Revenge Never Looked So Good" is the tagline for Vaughn Stein's directorial debut, Terminal, a gorgeous and atmospheric neo-noir that smartly placed Margot Robbie in the femme fatale role. There's truth in advertising in this case because the film is stunning to look at, colorful and surreal like if Dick Tracy stumbled into Alice in Wonderland, but not even Robbie and stylish visuals can prevent this film from being a retread of just about every trope of the hitman genre.
Robbie is, in just about every sense of the word, a classic movie star. She is nearly worth paying to see Terminal for, as she once again plays a character whose angelic beauty hides something twisted. She plays Annie, a mysterious woman who seems to be everywhere in an anonymous town so seedy it's like Sin City had a secret underbelly nobody knew about. Sometimes she's a waitress in a grungy old diner, other times she's lurking around bus stations in a red coat that evokes Little Red Riding Hood. The wolves in this forest are everywhere, though. Max Irons and Dexter Fletcher are combative hitmen Alf and Vince, in town on a lucrative job for a benefactor they know nothing about. Simon Pegg dials down the humor in an understated role as Bill, a primary school teacher with a terminal illness. He takes some comfort in conversations with Annie about life, death, and regrets, although she does seem to be steering him on a questionable path.
As you probably guessed, nobody is exactly who they seem to be and double-crosses come aplenty. But none of it matters because the characters Stein has created have no soul, no depth, nothing that makes them stand out. They jabber on and talk around one another the way mercurial assassins would, but we're never given a reason to care. And this goes on for the bulk of the film's 90 minute runtime, putting you through one snoozer of a conversation after another, all sounding like they were lifted from the Guy Ritchie playbook. If you've seen Snatched or Lock, Stock, and Two Smoking Barrels (Fletcher is a Ritchie regular) then you can probably predict every line. But there's no story that develops around their ruminations. At one point Alf and Vince lament they've been stuck in an apartment for weeks waiting on their target, and you'll feel similarly trapped and stir crazy hoping something will happen.
If only Stein had fully embraced the film's quirkier aspects this wouldn't have been such a familiar bore. Mike Myers takes a rare screen role as a seemingly omnipresent  janitor/cleaner who scrubs the toilets, drops pearls of wisdom, and mops up after the occasional murder. He plays the character as close to Austin Powers as possible without dipping into self-parody, but it's also like he's winking knowingly at us the whole time. This is such a baffling film for him to appear in and I think Myers enjoys picking his spots like this. Other than Robbie he's the only one here who does anything remotely memorable.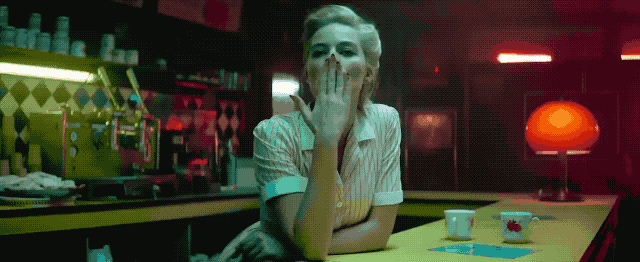 Robbie is a true force here, vamping it up in a serious of costumes one more illicit than the next. But not even she can overcome a screenplay that goes nowhere until the final 20 minutes, which are admittedly pretty great even if the big twist is obvious to anyone who has seen The Usual Suspects. Robbie, dripping with sexuality that is both alluring and deadly, proves she can chew up scenery as well as anybody. She and Myers are basically fighting one another to devour every possible moment, which they need to because Pegg, Irons, and Fletcher are so bland.
You might be surprised to learn that Terminal was shot way back in 2016, then sat gathering dust before somebody realized they could try and bank off Robbie's Oscar nomination for I, Tonya. She's listed as a producer here and has been a champion for the project ever since she joined it, but the fact it's not lighting up multiplexes and is dropping quietly On Demand should tell you everything you need to know.  Robbie may be a rare breed of Hollywood megastar, but not even she can pump life into Terminal.  Ah well, there are always more Harley Quinn movies, aren't there?